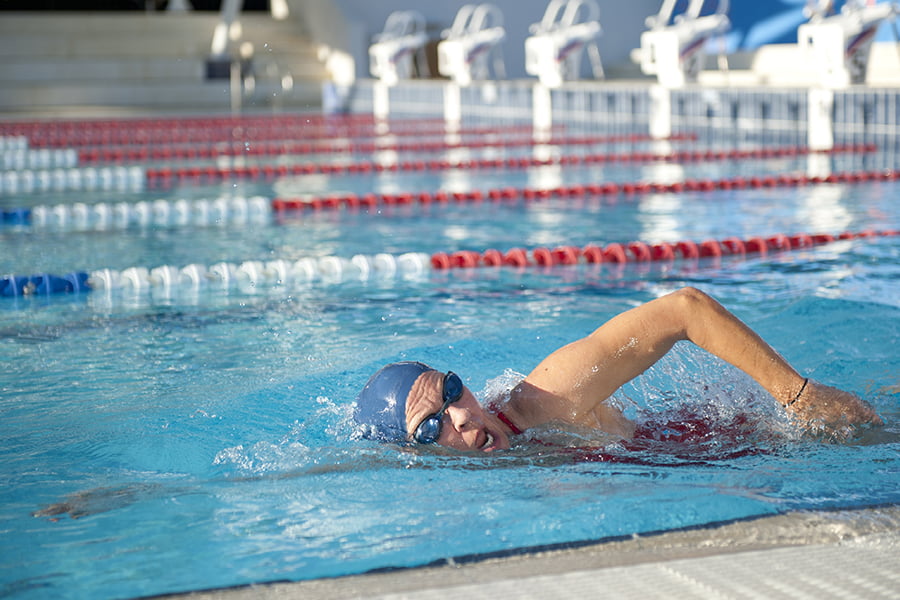 Aqua exercise for arthritis can be enjoyable and beneficial at the same time! Exercise is important for people with arthritis and for people who have had a joint replacement. Keeping your weight down and your muscles strong can help to delay joint replacement and improve your surgical result from joint replacement surgery.
Our mild Florida winters and abundance of swimming pools makes exercising in the water convenient for most folks. Using the natural buoyancy of water is one way to experience the benefits of aqua exercise for arthritis with a minimum of impact on your joints. When you're in the water up to your waist, your body bears just half of its weight; when it's up to your chest only 25 percent; and when you're up to your neck, 10 percent.
Water not only lifts you up, it provides resistance. You can work opposing muscles at the same time. For example, if you are doing curls underwater, pulling up will work the biceps, while pushing down will build up the triceps.
There are several variations of aqua exercise for arthritis that make this type of fitness even more engaging and effective.
Swimming
Swimming is one of the best all-around exercise activities, giving you a low-impact cardio-vascular workout. To be of benefit, however, you need to take full strokes — no doggy-paddling allowed!
Water Aerobics
Practically anything you can do on land, you can also do in the pool. Many health clubs offer classes such as group cycling (with special waterproof bicycles), kickboxing, Pilates, yoga, and more, making them exciting, fun, and varied. Some classes will even use special gloves, hand weights, noodles, balls, or other pool fitness props that provide resistance and fun.
Pool Running
Deep water pool running helps to strengthen the same key muscles used in land running, without the jarring impact. It will help to increase your stride length and hip extension. The Aquatic Exercise Association recommends wearing a specialized water shoe or your regular sneakers when you begin an aquatic running program.
If you plan to head for the pool to get your exercise, these tips may come in handy:
In general, pool temperatures between 83 F (28.3 C) and 88 F (31.1 C) are usually comfortable for most types of water exercise. Pools that are used for physical therapy typically have warmer water to help relax muscles and make stretching exercises easier.
Well-fitting goggles will keep chlorine out of your eyes, decreasing irritation while allowing you to watch where you're going to avoid both people and walls.
A swim cap will keep your hair out of your face so you can focus on your workout, not your hairstyle.
A supportive bathing suit is essential to swimming. The last thing you want to worry about is an ill-fitting suit that rides up and interrupts your workout.
A water bottle will remind you to drink before, during and after your workout. Yes, you can get dehydrated in the pool!
For more information on this subject, call The Zehr Center for Orthopaedics at 239-596-0100 or visit www.zehrcenter.com. The information contained herein is compiled from a variety of sources. It may not be complete or timely. It does not cover all diseases, physical conditions, ailments, or treatments. The information should NOT be used in place of a visit with your healthcare provider, nor should you disregard the advice of your health care provider because of any information you read on this topic.