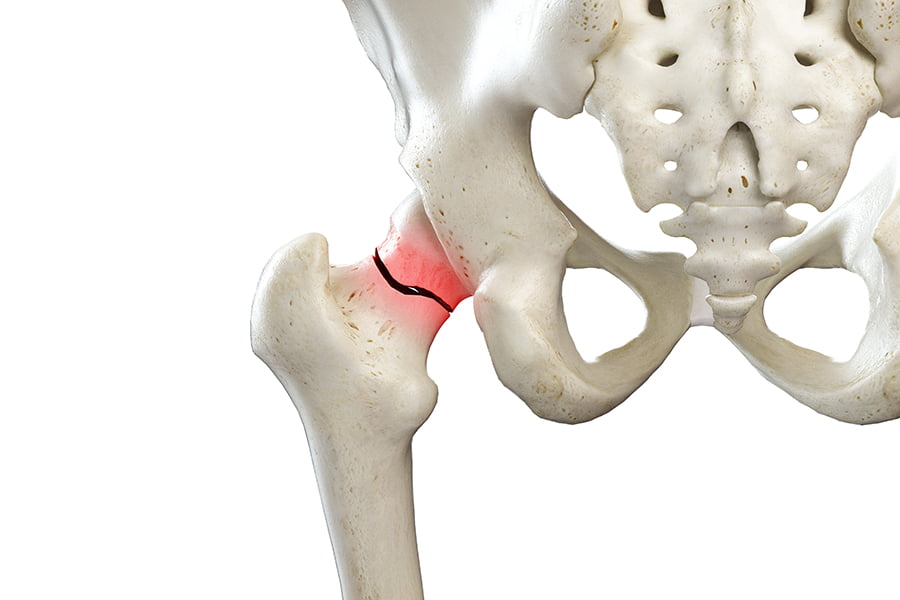 It may be difficult to diagnose a hip fracture. The hip is comprised of a large structure of bone that forms a ball-and-socket joint. The buttock and thigh muscles, along with some cartilage, support the hip.
After a hip injury, your doctor has to determine whether or not your hip has actually been fractured. This diagnosis may not be as simple as it sounds. A hip fracture is typically determined with x-rays. Occasionally, x-rays do not show the fracture and an MRI is necessary to make small fractures visible so your doctor can properly diagnose a hip fracture. In an MRI, magnetic waves are used to take a series of pictures of the hip.
It is very important to determine if the pain in your hip after an injury or fall is indeed a fractured hip or just pain from the injury or fall itself. If you are allowed to put weight on the legs, it may cause the fracture to displace (move apart) and no longer line up correctly. A displaced fracture significantly increases the risk that damage can occur to the hip's blood supply, causing even further complications in treating the fractured hip. Therefore, it is vitally important that your orthopaedic surgeon properly diagnose a hip fracture. This cannot be over emphasized.
If you suspect that you, or someone you know, have fractured a hip, call us at (239) 596-0100. Dr. Zehr is Southwest Florida's most skilled and experienced surgeon in the direct anterior approach to total hip replacement. Total hip replacement may be required if a hip is fractured, and you will want the best orthopaedic surgeon to perform your hip replacement surgery. You may qualify for outpatient hip replacement surgery at Seaside Surgery Center, Southwest Florida's first outpatient surgery facility designed specifically for outpatient joint replacement.
For more information on this subject, call The Zehr Center for Orthopaedics at 239-596-0100 or visit www.zehrcenter.com. The information contained herein is compiled from a variety of sources. It may not be complete or timely. It does not cover all diseases, physical conditions, ailments, or treatments. The information should NOT be used in place of a visit with your healthcare provider, nor should you disregard the advice of your health care provider because of any information you read on this topic.