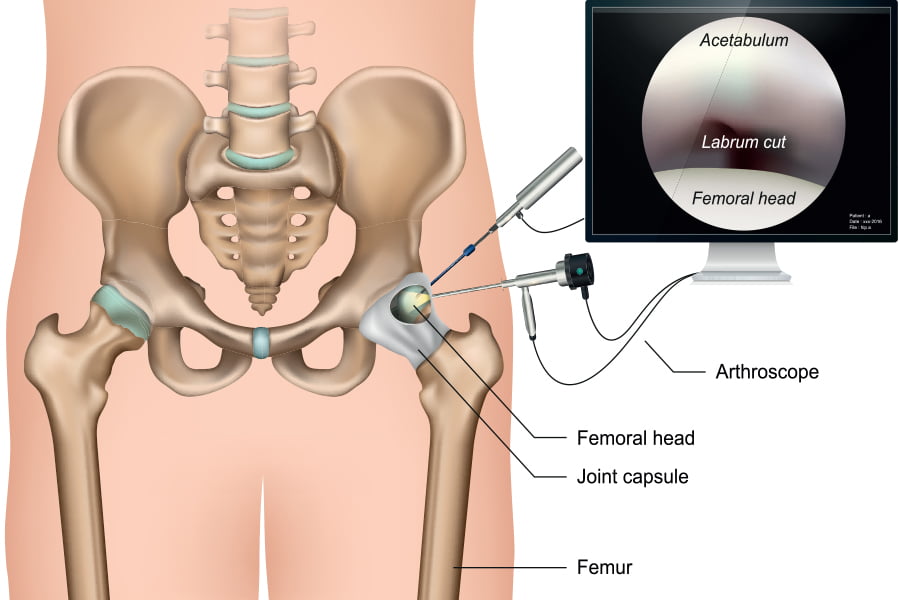 Hip pain in the middle-aged patient may or may not lead to hip replacement surgery. Surgical treatment for hip pain in the middle-aged patient depends on the type of underlying pathology and condition of the joint. The amount of degeneration, bony deformities present, and the ability to repair the labrum and cartilage damage are factors to be considered in the decision.
The hip joint is surrounded by ligaments, which hold the bones together, and muscles on top of the ligaments, which are responsible for moving the bones. All of these tissues work in conjunction to allow you to move your leg in a controlled manner. If any of these tissues are disrupted, the direction of forces change across the joint and wear and tear can happen at a faster rate. Wear and tear, or arthritis, can also occur from repetitive activities and from bony anomalies that occur either on the ball of the femur or on the socket of the hip joint.
Arthroscopic surgery through a small incision to remove extra bone and repair a labral tear is often successful in younger patients. However, hip pain in the middle-aged patient related to labral tears often also involves joint arthritis. As many as 25 per cent of the middle-aged patients with hip pain undergoing the same surgery continue to have hip pain with an increased risk of quick progression to a total hip replacement.
Studies have shown that surgery to repair a torn labrum, even with coexisting cartilage damage (or early arthritis), could possibly prevent or slow down the arthritis. Furthermore, by repairing the labrum, the normal joint mobility and tracking is maintained, which can also help slow down the joint degeneration.
When the hip pain in the middle-aged patient interferes with daily activity, it is time to consider a total hip replacement. The direct anterior approach to total hip replacement provides patients with four distinct benefits: faster recovery, less pain, fewer post-operative restrictions and a more accurate placement of the implant.
Dr. Zehr specializes in the direct anterior approach to total hip replacement. As one of the first orthopaedic surgeons in Southwest Florida to offer the procedure, he has performed over 2,300 of these minimally invasive procedures.
For more information on this subject, call The Zehr Center for Orthopaedics at 239-596-0100 or visit www.zehrcenter.com. The information contained herein is compiled from a variety of sources. It may not be complete or timely. It does not cover all diseases, physical conditions, ailments, or treatments. The information should NOT be used in place of a visit with your healthcare provider, nor should you disregard the advice of your health care provider because of any information you read on this topic.