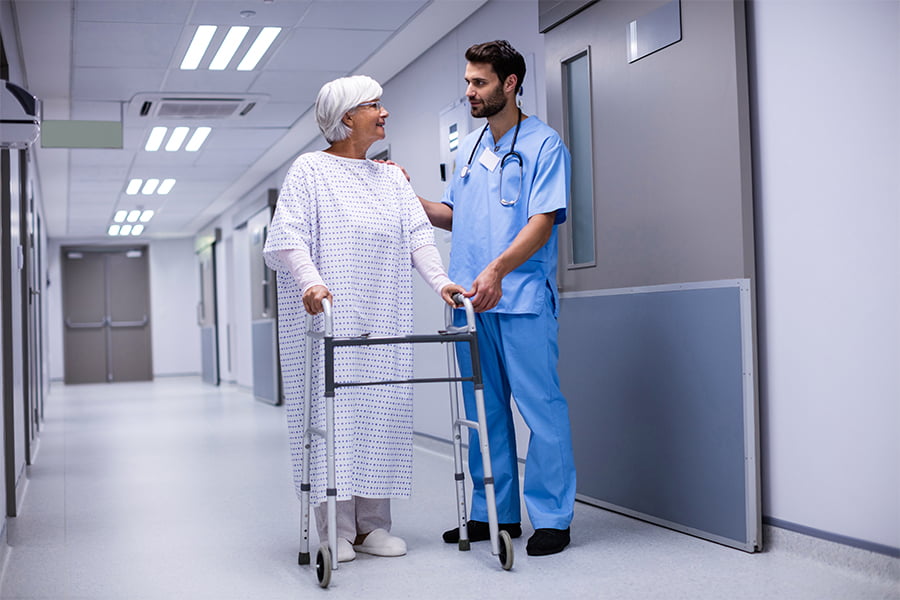 Rehabilitation after hip fracture surgery is designed to help you begin moving as quickly as possible. Movement is critical so you can avoid dangerous complications. Pneumonia, blood clots, joint stiffness, and pain can arise from being immobilized in bed.
Your physical therapist will work with you in the hospital to begin rehabilitation after hip fracture surgery. You'll begin walking with a walker or crutches. Then you will start doing exercises to tone the muscles around the hip and thigh and to prevent the formation of blood clots.
How much weight you can place on the operated leg depends on the severity of your fracture. It also depends on the type of surgery you have. Most patients are able to start weight bearing right away after surgery.
Your rehabilitation after hip fracture surgery will continue after you return home from the hospital. Your physical therapist will make recommendations about your safety and review your hip precautions. He or she will make sure you are placing a safe amount of weight on your foot when standing or walking. The therapist's goal is to help you maximize hip strength, restore a normal walking pattern, and help you do your activities without risking further injury.
Preparing for rehabilitation after hip fracture surgery
When you first return home, you may find it difficult to perform some of the simplest daily tasks, such as dressing and cooking. You may want to investigate using some assistive devices such as a long-handled shoehorn or other dressing aids.
It is wise to prepare your home for your return from surgery. Arrange it in a way that keeps important items within reach. Prevent falls by removing electrical cords, throw rugs and other items that might be underfoot. Install grab bars, a shower chair and an elevated toilet seat in your bathroom and use "no-slip" bath mats. Make sure you have adequate lighting in all of your traffic paths.
You will want to wear shoes with sturdy, flat, non-slip soles. Using a fanny pack, apron or pockets to carry things will free up your hands. Then you can use them to keep your balance.
The professionals at the Zehr Center for Orthopaedics can offer you more tips and advice on recovering from hip fracture surgery. Call us at (239) 596-0100.
For more information on this subject, call The Zehr Center for Orthopaedics at 239-596-0100 or visit www.zehrcenter.com. The information contained herein is compiled from a variety of sources. It may not be complete or timely. It does not cover all diseases, physical conditions, ailments, or treatments. The information should NOT be used in place of a visit with your healthcare provider, nor should you disregard the advice of your health care provider because of any information you read on this topic.