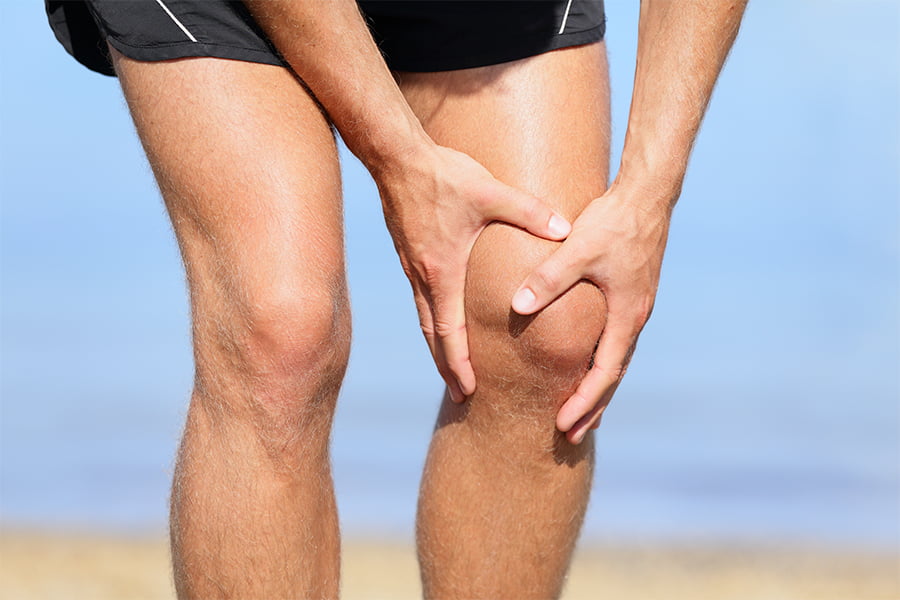 Patellofemoral problems, such as alignment or overuse problems, can lead to wear and tear of the cartilage behind the patella (kneecap). This produces pain, weakness, and swelling of the knee joint. Several different problems can affect the patella and the groove it slides through in the knee joint. These problems can affect people of all ages.
Patellofemoral problems commonly develop when the kneecap suffers wear and tear. The underlying cartilage begins to degenerate. Wear and tear can develop for several reasons. Degeneration may develop as part of the aging process, like putting a lot of miles on a car. The patellofemoral joint is usually affected as part of osteoarthritis of the knee.
Muscle weakness and dysfunction can also cause patellofemoral problems. The quadriceps muscle helps control the patella, so it stays within the femoral groove. If part of the quadriceps is weak for any reason, a muscle imbalance can occur. When this happens, the pull of the quadriceps muscle may cause the patella to pull more to one side than the other. This in turn causes more pressure on the articular cartilage on one side than the other. In time, this pressure can damage the articular cartilage.
Patella problems can also occur due to anatomic variations. These are differences in the way the bones are shaped, and people are born with these variations. In these cases, the patella slips sideways out of the groove, causing a dislocation of the kneecap. In some instances, people who have a high-riding patella are also at risk of having their patella dislocate.
Diagnosing patellofemoral problems can be confusing. The symptoms can be easily confused with other knee problems because the symptoms are often similar. You may, or may not, have pain around your kneecap. You may experience a popping or clicking sound as the kneecap slips off the groove.
A series of X-rays, MRI imaging and/or arthroscopy can be used to determine the extent of the degeneration that is causing your patellofemoral problems. Next week we will look at treatments for your patellofemoral problems.
For more information on this subject, call The Zehr Center for Orthopaedics at 239-596-0100 or visit www.zehrcenter.com. The information contained herein is compiled from a variety of sources. It may not be complete or timely. It does not cover all diseases, physical conditions, ailments, or treatments. The information should NOT be used in place of a visit with your healthcare provider, nor should you disregard the advice of your health care provider because of any information you read on this topic.