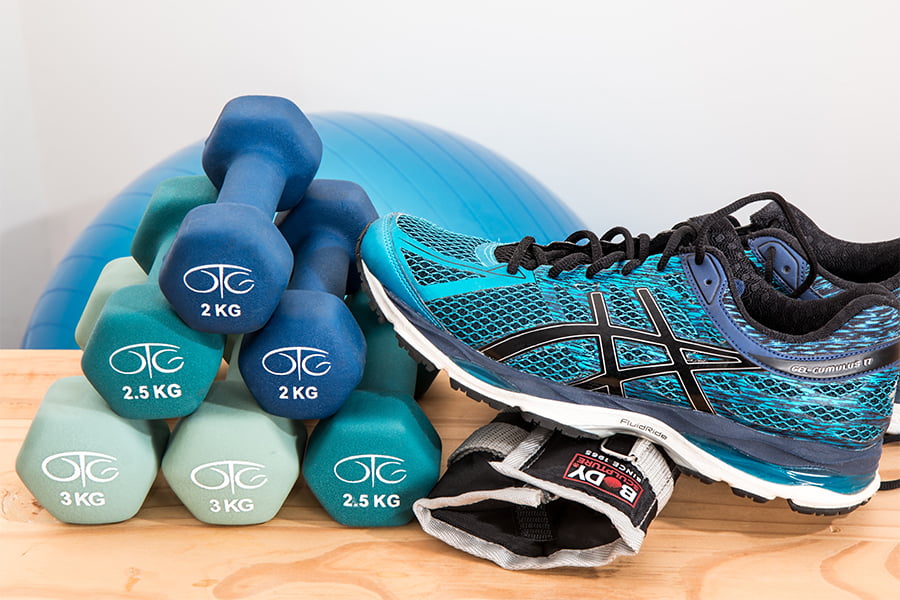 We recently discussed some basic questions to ask before getting a total hip replacement. Educating yourself is an all-important step when considering hip replacement surgery.
Are you ready to go ahead with your minimally invasive hip replacement surgery? Then let's go to step two – preparing for surgery.
Get in shape before the surgery
Your surgeon knows that physically fit patients recover much faster and return to activity sooner than patients who are sedentary.  If you want your recovery to be shorter in time and have less pain then you need to get yourself in shape.  It is, in fact, your responsibility to make yourself as strong as you can.
We will direct you to a physical therapist for instruction on which muscles to strengthen and joints to stretch. Exercises should begin as soon as possible.  Patients who enter surgery with good flexibility and strength will recover more quickly than those who are in poor physical condition.  Additionally, fit patients tolerate pain much better.
It is very helpful to establish a relationship with a physical therapist prior to surgery. It sets the tone for the therapy that will be required after surgery.  The therapist will get to know where your starting point is and this makes the rehabilitation process more helpful to you.
Most of the preoperative exercises that you will be directed to do take little time each day to do but will make a huge difference in how you recover!
On occasion, when a patient starts to work out, the pain starts to diminish and he/she can delay surgery indefinitely!  It is certainly worth the effort to try.
Contact your insurance company
Before surgery, we will be contacting your insurance carrier to inquire whether authorization, pre-certification, second opinion, or a referral form are required.  We will sort out beforehand any problems that arise with the insurance coverage for this elective surgery, so that no surprises develop during your stay in the hospital or in the post-operative period.
It would be worth your while to confirm your benefits as they apply to coverage of the surgery, hospital stay, post-op rehab and extended stay at a rehab facility so that you are comfortable with the projected expense and your responsibility for payments.
Some insurance companies insist on having the opinion of another surgeon to justify the surgical procedure (although this is more common with HMOs and not Medicare or commercial insurers).  Our office coordinator will contact your insurance company to pre-authorize your surgery. We will notify you if a second opinion is required.
For more information on this subject, call The Zehr Center for Orthopaedics at 239-596-0100 or visit www.zehrcenter.com. The information contained herein is compiled from a variety of sources. It may not be complete or timely. It does not cover all diseases, physical conditions, ailments, or treatments. The information should NOT be used in place of a visit with your healthcare provider, nor should you disregard the advice of your health care provider because of any information you read on this topic.