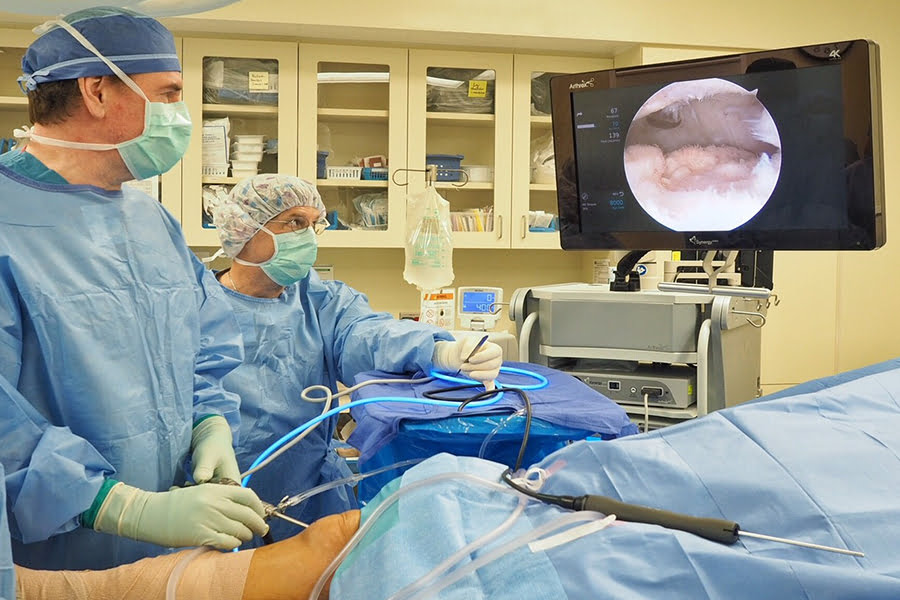 Surgical treatment for knee osteoarthritis should be considered when other efforts to treat your pain fail to bring relief.
Arthroscopy
Using an arthroscope, your surgeon can check the condition of the articular cartilage. He can also clean the joint by removing loose fragments of cartilage. Some patients experience relief when the joint is simply flushed with saline solution. Your surgeon may use a burring tool to roughen badly worn spots on the cartilage. This procedure promotes growth of new cartilage called fibrocartilage, which is like scar tissue. The procedure is often helpful for temporary relief of symptoms for up to two years.
Proximal Tibial Osteotomy
Osteoarthritis usually affects the inside, or medial compartment, of the knee, leading to bowing of the knee. A bowlegged posture places more pressure than normal on the medial compartment. This leads to more pain and faster degeneration where the cartilage is being squeezed together.
Surgery to realign the angles in the lower leg can help shift pressure to the other, healthier side of the knee. The goal is to reduce the pain and delay further degeneration of the medial compartment. The benefits of this operation are usually temporary, lasting five to seven years.
Artificial Knee Replacement
The ultimate solution for advanced knee osteoarthritis is an artificial knee replacement. You may need a partial knee replacement or a total knee replacement. Technology continues to advance, bringing improved prosthetics to the market. These devices allow for the development of new surgical methods, such as minimally invasive surgery.
Surgical treatment for knee osteoarthritis requires rehabilitation
Physical therapy treatments after surgery depend on the type of surgery performed. After simple procedures such as arthroscopy, you may begin fairly aggressive exercise therapy immediately. Rehabilitation after knee replacement surgery, however, is generally slower and more cautious.
Therapy treatments usually begin the next day after surgery. The goal of therapy is easing your pain, reducing swelling, and getting you up and walking safely. You may need to use either a walker or crutches after surgery. Your surgeon may instruct you as to how much weight you can place on the knee for four to six weeks. Continued therapy will help to increase your range of motion and strength. It will safely progress your ability to walk and do daily activities.
For more information on this subject, call The Zehr Center for Orthopaedics at 239-596-0100 or visit www.zehrcenter.com. The information contained herein is compiled from a variety of sources. It may not be complete or timely. It does not cover all diseases, physical conditions, ailments, or treatments. The information should NOT be used in place of a visit with your healthcare provider, nor should you disregard the advice of your health care provider because of any information you read on this topic.